In today's NY Times: an encouraging story about courage. The women of Yemen take it to Saleh, and to the streets: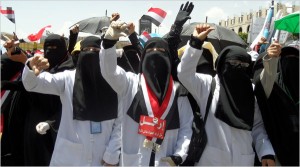 SANA, Yemen — President Ali Abdullah Saleh's suggestion that antigovernment protesters in the capital were in violation of Islamic law because women were allowed to mix with men stirred a women's rights march in the capital on Saturday, as thousands of women in this staunchly conservative country made Mr. Saleh an object of public derision.
Mr. Saleh's comments on Friday, in which he called on the antigovernment protesters at Sana University "to prevent the mixing on University Avenue, which is not approved by Islam," seemed only to further embolden female protesters in Yemen, where virtually all women are covered in black head to toe, including a niqab, or face veil.
"The reason why people are upset is that you cannot talk about women's honor here," said Atiaf Alwazir, a Yemeni woman raised in the United States who is now a youth organizer. "That is really a big shame. It's a black shame. It shames the tribe, the husband, the brother, the whole family."
This week's episode of Smashing Crayons for Slate: Life of Saleh.