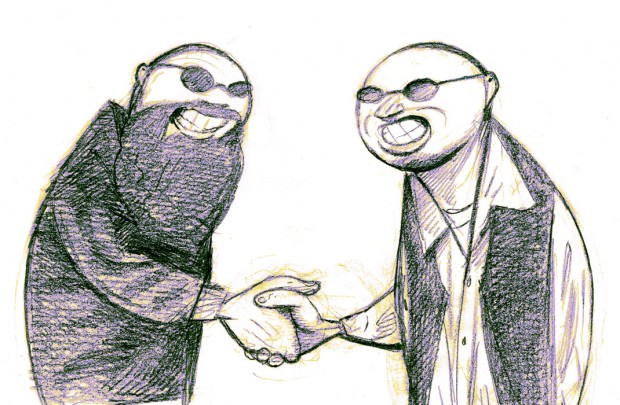 In the ongoing battle to roll back the Enlightenment we have two stories that suggest that certain folks on either side of the world would really get on. So allow me to affect this meet-and-greet.
In Israel a group of ultra-orthodox men have given themselves the mission to help people who are different to be less different. In the case of an 8 year old girl who doesn't belong to their sect, they have mounted a campaign against her.
The NY Times:  "An Israeli weekend television program told the story of how Naama had become terrified of walking to her elementary school here after ultra-Orthodox men spit on her, insulted her and called her a prostitute because her modest dress did not adhere exactly to their more rigorous dress code."
Also
"Ultra-Orthodox men and boys from the most stringent sects have hurled rocks and eggs at the police and journalists, shouting "Nazis" at the security forces and assailing female reporters with epithets like "shikse," a derogatory Yiddish term for a non-Jewish woman or girl, and "whore." Jews of varying degrees of orthodoxy and secularity headed to Beit Shemesh on Tuesday evening to join local residents in a protest numbering in the thousands against religious violence and fanaticism.
For many Israelis, this is not a fight over one little girl's walk to school. It is a struggle that could shape the future character and soul of the country, against ultra-Orthodox zealots who have been increasingly encroaching on the public sphere with their strict interpretation of modesty rules, enforcing gender segregation and the exclusion of women."
Back home we have the interesting case of Christian Chapman who likes to get himself into public schools in South Carolina to preach the virtues of Christianity. Another a fellow who is being helpful to those who are different. Again the Times:
"Such overt evangelizing would not be unusual at a prayer rally, but this was a daytime celebration in a public school gymnasium, arranged by the principal for sixth, seventh and eighth graders.
When the rapper posted a video on YouTube, announcing that "324 kids at this school have made a decision for Jesus Christ," he drew unwelcome public and legal scrutiny to the event. It was the kind of religious advocacy that is increasingly coming to light, legal experts say, as school populations become more diverse and as the objection of non-Christians — or, in this case, the rejoicing of evangelists — is broadcast on the Internet."
Clearly, if these folks were to meet, they would have lots of notes to compare. And right before they murdered each other, it might dawn on them that they look very much alike.