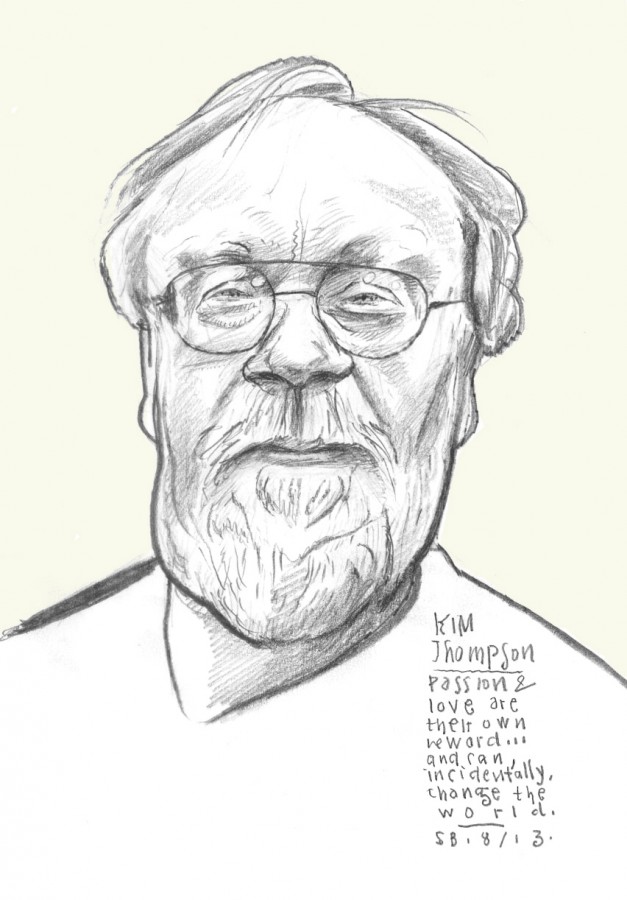 For those of us who knew Kim Thompson, knew of him, knew and love his work, a memorial will be held Saturday, Aug. 10, 2013, at the Society of Illustrators, 128 W. 63 St, NYC. 6-8pm.
This past June graphics publishing lost a true giant, Kim Thompson. He was co-publisher of Fantagraphics Books, the premier house for comics, graphic novels and related art books. We worked together on my collection Freedom Fries.
What made him totally remarkable and unlike any human being I've ever met was his extraordinary passion for the art combined with a keen intelligence about how publishing worked. The experience of working with him was magical.
It was amazing to me that someone in the world of comics and graphic novels would want to do my book. But this was Kim. He felt, it turned out, as powerfully about mainstream media illustration as he did about the purer form of comics. He saw what I was trying to do and totally "got it".
Born in Denmark, he travelled the world quite a bit in his youth, speaking 4 languages, reading 6 more. His knowledge of European comics was vast. Bringing that to the US and Fantagraphics made many things possible here. By publishing Chris Ware, Joe Sacco, Dan Clowes and many others Kim and Gary changed American and world culture. Comics and literature blended and a new sensibility started to take hold. Kim was in the vanguard of that movement.
When he joined Fantagraphics Kim was just a fan. Would stay up all night editing on deadline, sleep on a couch. It was the life of a person absorbed in the intense act of creation.  No wonder he understood what we did. He knew it was a calling. Money was secondary, if that. It was about the work. Needless to say.
That's the Kim I knew. Passion, obsession, not letting go until it's right. He came to my apartment for a weekend to look at art. We went through hundreds of pieces going back 30 years. His focus, energy and care were always clear to see. It's what made the book happen. It's what made many books happen.
When Freedom Fries was almost finished it needed one more fine-tooth correction. This was done late and sent to the printer in Korea. When books arrived I immediately saw that the last file had not been used, the corrections were not made. I called Kim in a panic, although, of course, there was nothing anyone could do about this now. Kim, my guru, calmed me with a comics-parable. "You know", he said softly, "in the Fantastic Four there is a villain named Dr. Doom who always wears a mask because of some disfiguring scar he has that he is ashamed of. Well, in one story the mask comes off and it is revealed that he looks fine!  The problem was all in his head."
It was what I needed to hear and handily shut my anxiety machine down. In the end because of Kim Freedom Fries was the book that it wanted to be, which was much more than I ever thought it could be. I had the art, he, working with top flight designer Kelly Doe, had the vision. Kim was a true original and will live on in a million stories that fill our culture, told person to person, candid and pure, as he was, through the medium of pictures.