Last January Aaron Swartz committed suicide. He had been hounded into a state of deep depression by an overzealous prosecutor in Massachusetts, who wanted to make a public example of a young man who devoted his life to making information free; a function, to him, of a strong democracy. The cruelty in this story is palpable. He was the kind of person we need more of if we are to prevail in our battle for sanity and humanity which, only occasionally, in the US, can be won. This round, however, went to the other side.
Many thanks to The Baffler, where Aaron was a contributor. John Summers, editor and my partner for the project, the great Patrick jb Flynn of The Flynnstitue. We took a complex story and poured it into a full page. Proud of my friends. And sad to lose a friend to free speech. RIP Aaron.
Below is an earlier take on the tragedy for The Baffler as well as a portrait of Aaron by the very talented Lisa Reist followed by an essay by her, for which I am extremely grateful.
Click on image to enlarge.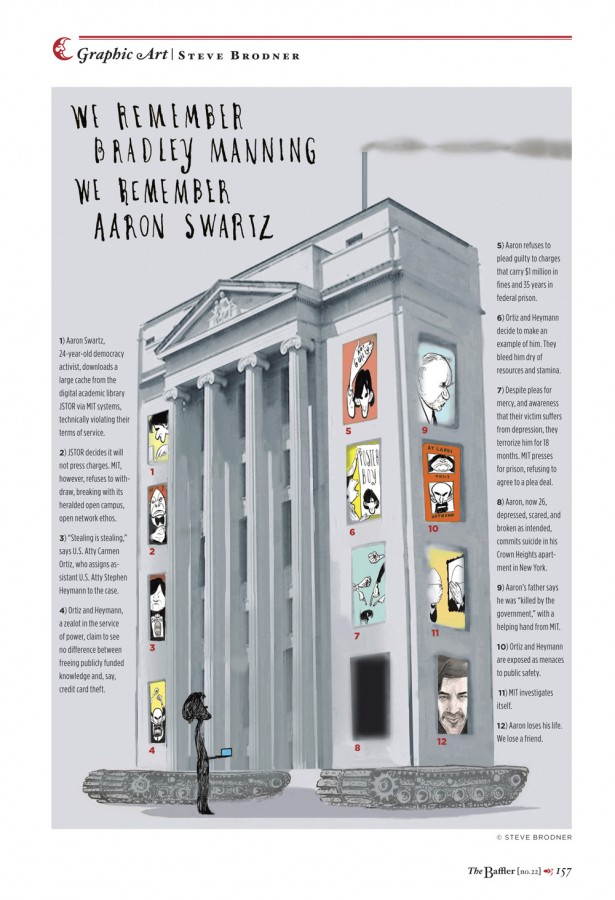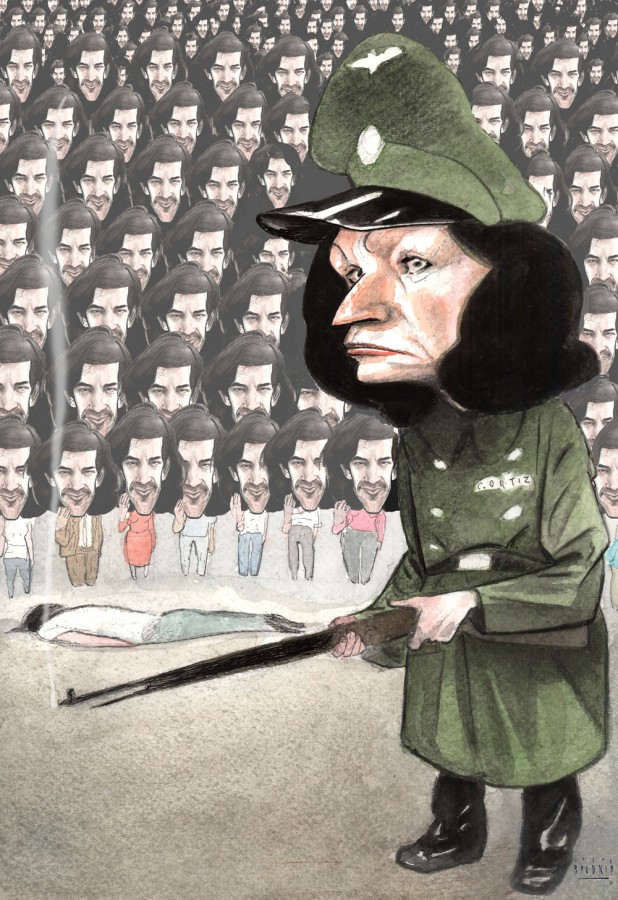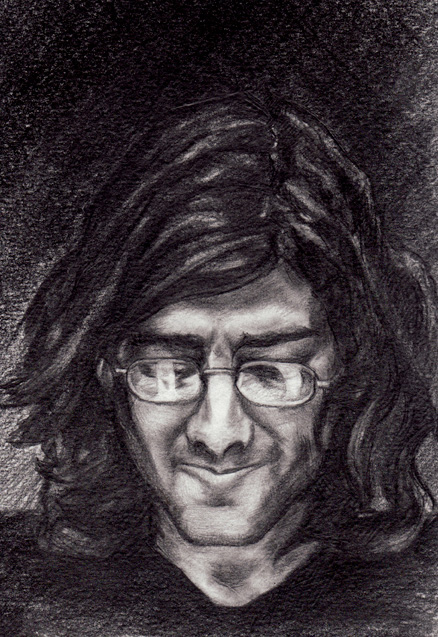 In his own words, Aaron Swartz "just wanted to change the world." At his memorial service held in New York shortly following his death in January, Aaron's friends and mentors not only recalled his technical brilliance, but spoke of his fierce commitment to helping others, and his kind, genuine, and gentle nature. It was his desire to fight injustice and his belief in the freedom of information that drove his groundbreaking internet activism work, and it's clearly evident in the two months since Aaron's death that his memory and impact aren't going anywhere. 
Details of Aaron's case are slowly emerging, and Justice Department representatives recently confirmed that Swartz's internet activism work played a role the overzealous prosecution that many say drove him to suicide. The DOJ was prosecuting him for allegedly downloading a high volume of academic articles from JSTOR.  The files were returned to the subscriber-only digital library unharmed, but for this action Swartz potentially faced up to 35 years in prison and $1 million in fines.  Although JSTOR had no interest in pursuing any action against Swartz, recent reports also make clear that the prosecution in Aaron's case wanted to deter others from similar acts of civil disobedience.  As the proposed "Aaron's Law" is facing an uphill battle in D.C. (a reform to the outdated Computer Fraud and Abuse Act under which Aaron was being prosecuted), an old villain of internet activists has reemerged as the Cyber Intelligence Sharing and Protection Act (CISPA) which was reintroduced to the House this February.
CISPA, which 
Swartz characterized as "a Patriot Act for the internet" 

was shelved last year after public outcry in the wake of SOPA's defeat, and activists are gearing up for another fight against the bill, which calls for 
a "cybersecurity" exception to existing privacy law, giving complete immunity to companies that hand over confidential customer records and communications to the National Security Agency, FBI and Department of Homeland Security. CISPA also does not require that companies notify the individuals from whom they are collecting information, all in the vague name of "cybersecurity." 
Aaron's activism work brought attention to issues that should concern all of us, regardless of your level of tech savvy: the privitization of information, socioeconomic privilege of the educational system, internet censorship, and privacy protection.Aaron's rallying cries encouraged masses to act, sparking the largest online protest ever and stopping SOPA in its tracks. As technology progresses laws need to evolve, and our protections with them. 

Lisa Reist
The last word here by the great Joe Ciardiello, from The Baffler: