When your work is recognized by the design community it is wonderful. This year it is especially great to be short-listed at SPD for work that goes in new directions.
Among the finalists in the category of Illustration: Single page / Spread is Six Portraits of Mitt Romney  done with Mary Parsons  AD and Kit Rachlis, ed, The American Prospect. It employs an exciting direction for me, which I call illographix. This is involves graphing and charting using illustration. Two other examples will be in the upcoming Prospect as well as the next edition of The Baffler working with John Summers and Patrick jb Flynn (and the Flynstitute).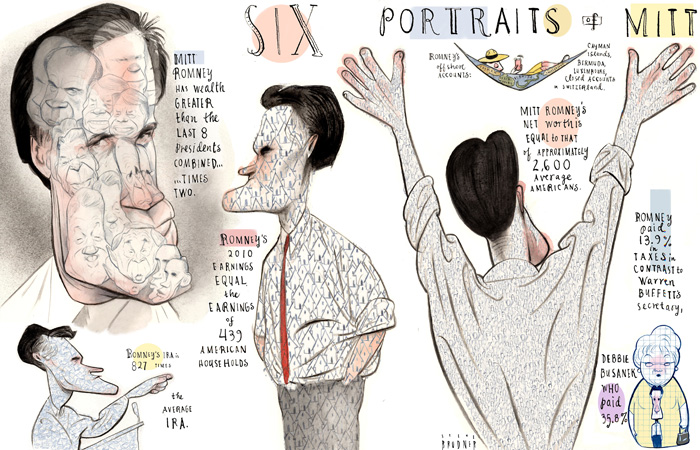 Equally as great is to be a finalist in the Spot Illustration category for my Mother Jones series: The Road to Citizens United. This also takes an issue apart and organizes, this time in a timeline. Great thanks to Tim Luddy, Carolyn Perot ADs, Monika Bauerlein, Clara Jeffrey, eds,  for this collaboration. The spots responded to the opener which is below, each illustrating great (?) moments in the loosening of campaign finance regulations, leading to the mess we have now. Starting with Teddy Roosevelt, through Nixon, to Gore to well, who knows what.
Great thanks to the juries at SPD, my colleagues who are also up for medals. It's great to be in your league, still making trouble.