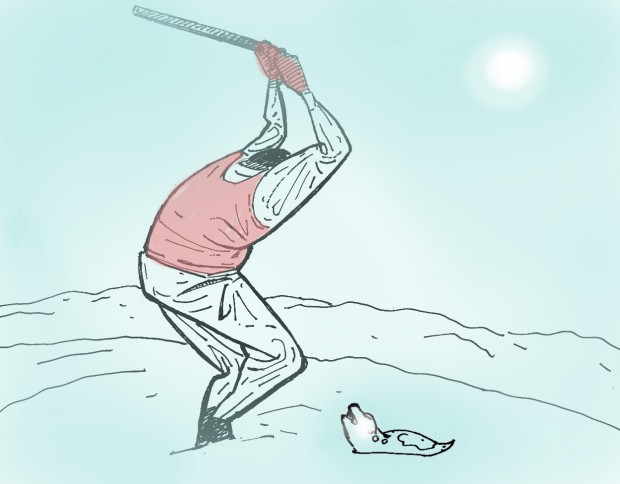 The nuisance of baby seals is once again upon us.  These annoying pests are everywhere, around the northern part of Canada. And you thought that Global Warming would knock them off . . . well, that is working, but not fast enough!  So that's why the Canadian government is supporting this annual activity where these useless creatures will be decimated by the hundreds of thousands.  How?  With bludgeons among other handy high tech tools. So if you believe in protecting Canada from the baby seal infestation problem do not sign the petition below, put forth by tree-hugging, simpering, weak-kneed liberals no doubt.  Real men kill baby seals.
HUMANE SOCIETY SEAL HUNT PETITION
PS: Ignore this letter from Rebecca Aldworth of the Humane Society International/ Canada:
It hurts to say these words: Hundreds of thousands of harp seal pups are in danger of slaughter here on the ice floes of Eastern Canada in just days.
It's the largest slaughter of marine mammals on the planet, and the Canadian government — undeterred by seal pups drowning in their melting habitat — has sanctioned even more killing this year.
What can you do right now to help stop this madness? Join the 2011 boycott to save seals.
Why boycott Canadian seafood? Because it works. Canada's commercial fishing industry hunts baby seals during the off-season, selling fur for a tiny fraction of the industry's overall profit. Seafood — like snow crabs, cod, and cold water shrimp — make up the lion's share of their revenue, and in the past 6 years that we've refused to support their cruelty, the industry's bottom line has taken a nose dive.
In 2009, the European Union banned its trade in products of commercial seal slaughters, closing a primary market for Canada's sealing industry. As shrinking global demand for seal skins have left the fishing industry with fewer incentives to go out on the ice and made a government buyout of sealing licenses more attractive, we're truly on the verge of a breakthrough for seals.
The end is near — I can feel it. Join the 2011 boycott to save seals and be part of our historic campaign to end this brutal hunt at last.
Sincerely,
Rebecca Aldworth
Executive Director
Humane Society International/Canada