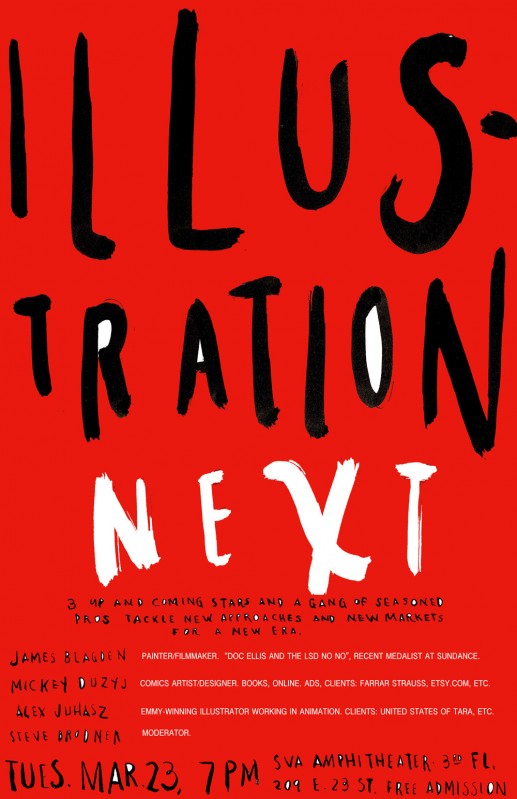 On Tuesday March 23 at 7 in the SVA Amphitheater we'll have a unique panel of high-achieving SVA grads who have gone on to do innovative things in our field. As a teacher I'm always looking for the new directions for narrative art to move in.  Of course the young artists will show us the way.  So here are three. In addition, we've compiled a star-studded list of boldface names from the biz whose breakout work we'll be showing:
Lou Beach, Alan Witschonke, Bob Staake, Chris Buzelli, Chris Spollen, Felix Sockwell, Frances Jetter, JD King, Joseph Daniel Fiedler, Leo Espinosa, Marc Burckhardt, Marcos Chin, Mark Fisher, Mark Ulichsen, Michael Moran, Michael Sloan,  Nancy Stahl, Nate Williams, Patrick Dorian, Peter Kuper, Richard Borge, Richard Downs, Lou Brooks, Fernanda Cohen, Walter Vasconcelos, Inga Poslitur, Joe Ciardiello, Marcellus Hall, Jorge Colombo, Jeff Moores, John Hendrix, Paul Hoppe among others.
Many of these great artists will be on hand to discuss their work. Plus an intro by (possibly) the World's Greatest Artist. Looks to me like we're in serious danger of being off to a great start on the road to NEXT. Please come, admission is free.