April 21, 2017 By Steve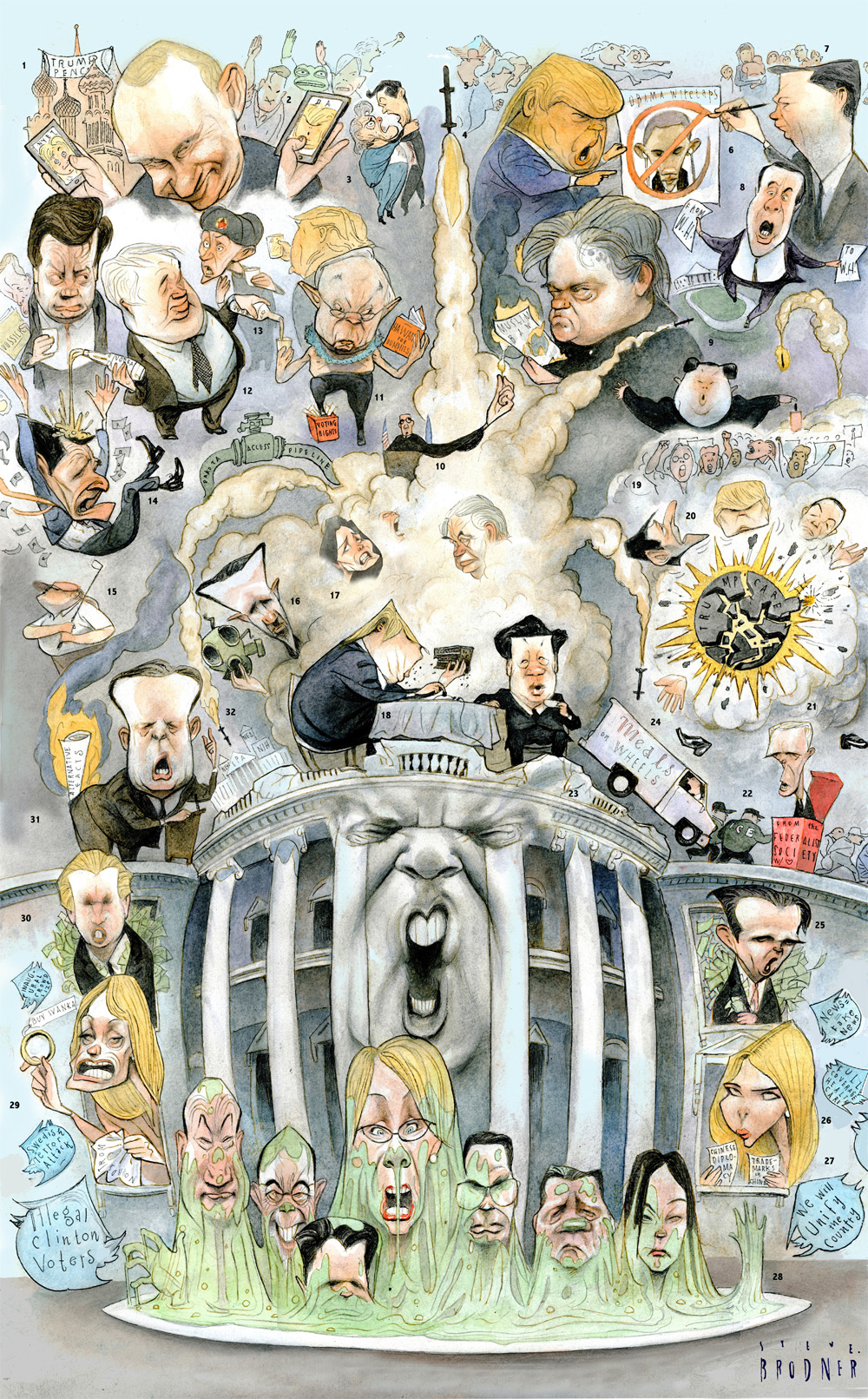 This image for The Washington Post marks Trump's 100 Days in office.
Great thanks to Adam Kushner, editor and Chris Ruken, designer for making this happen.
Prints are now available HERE.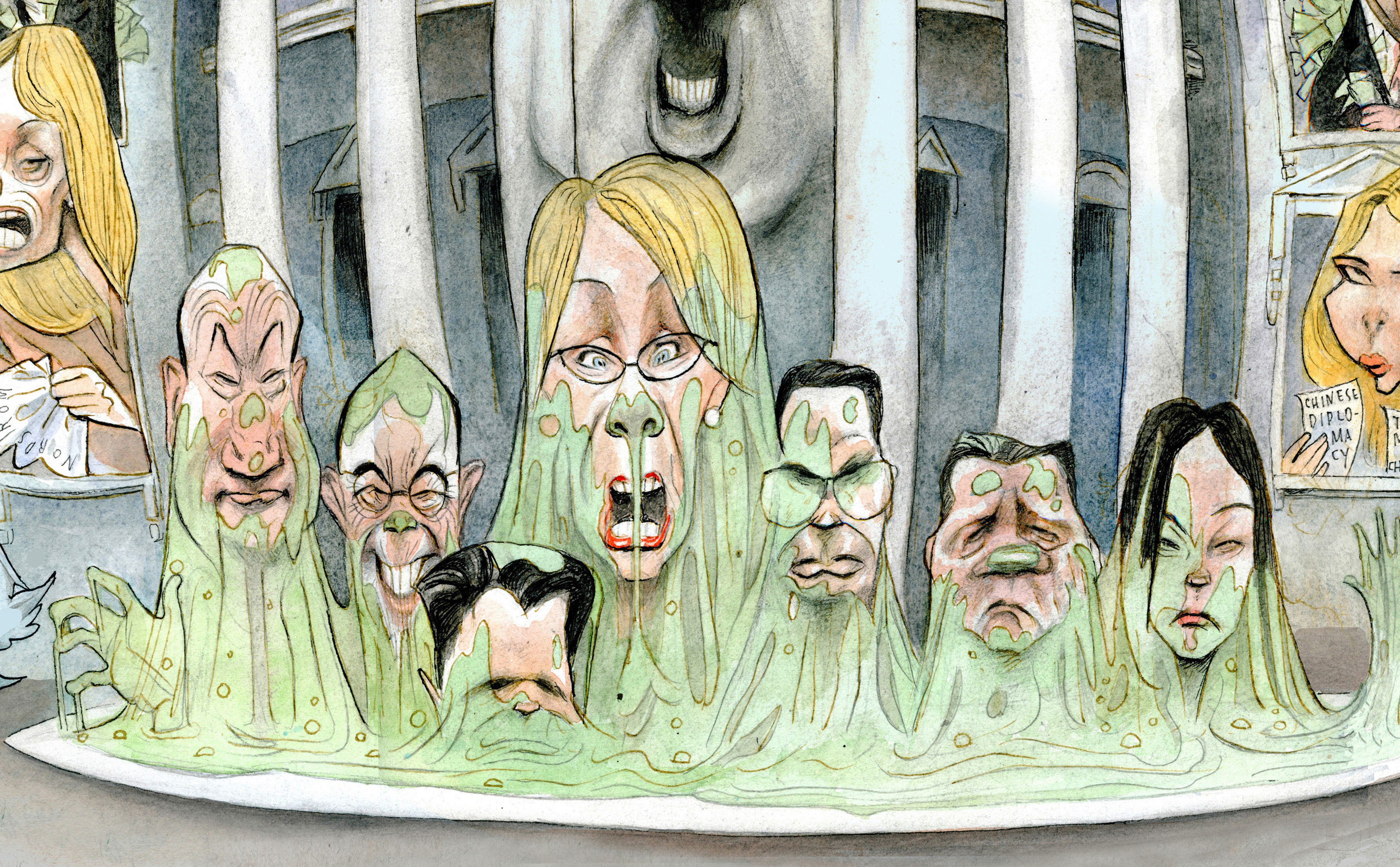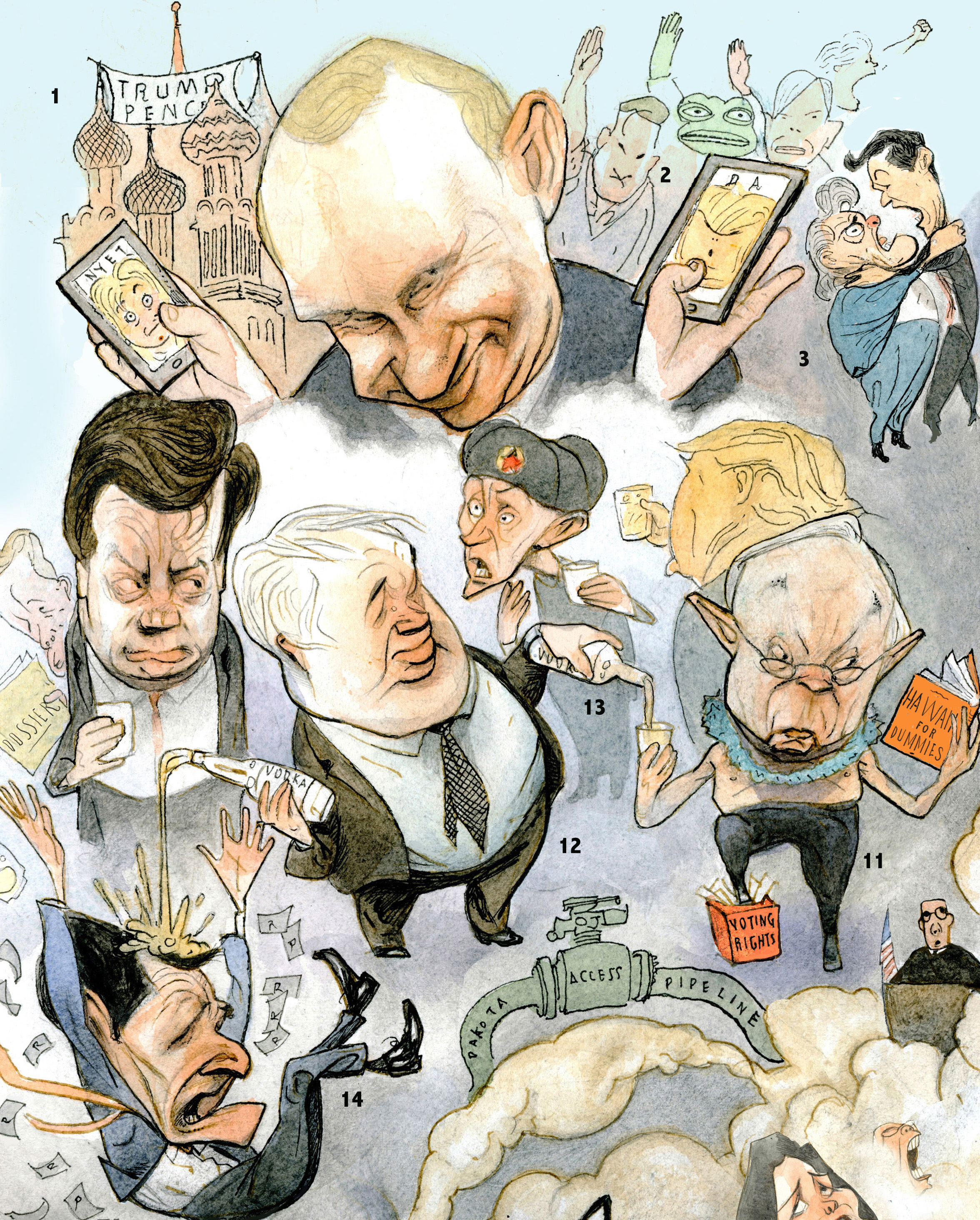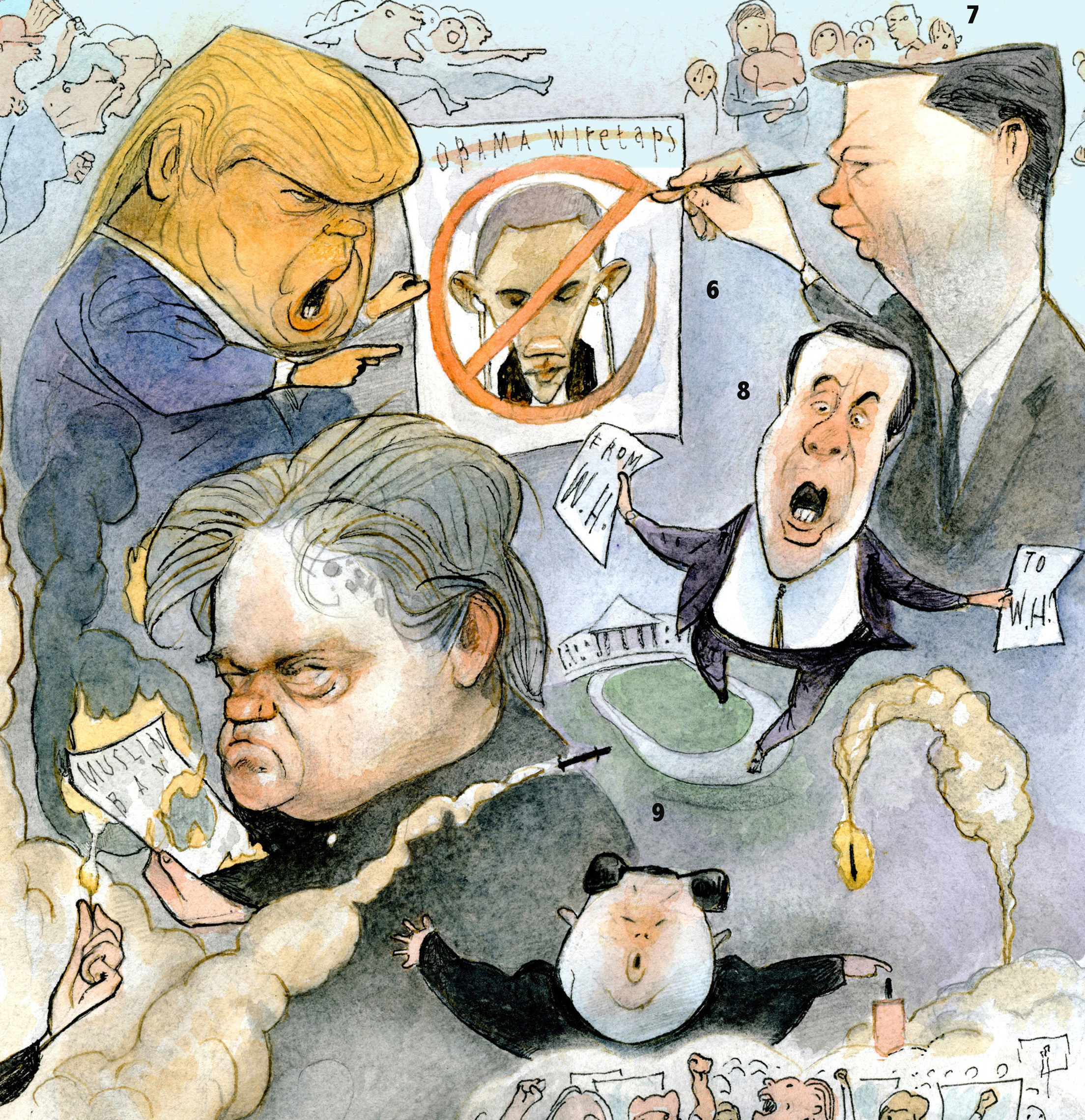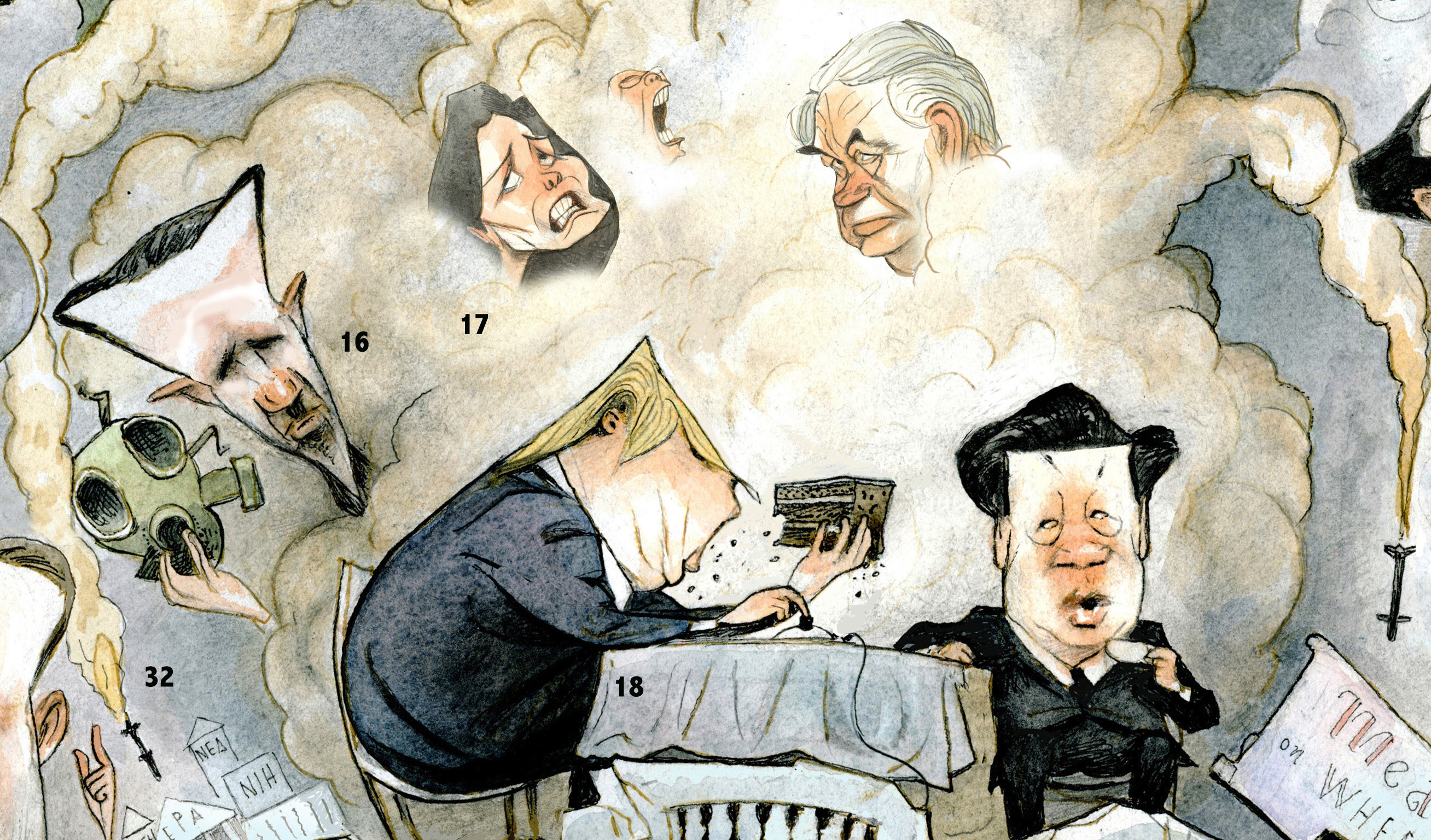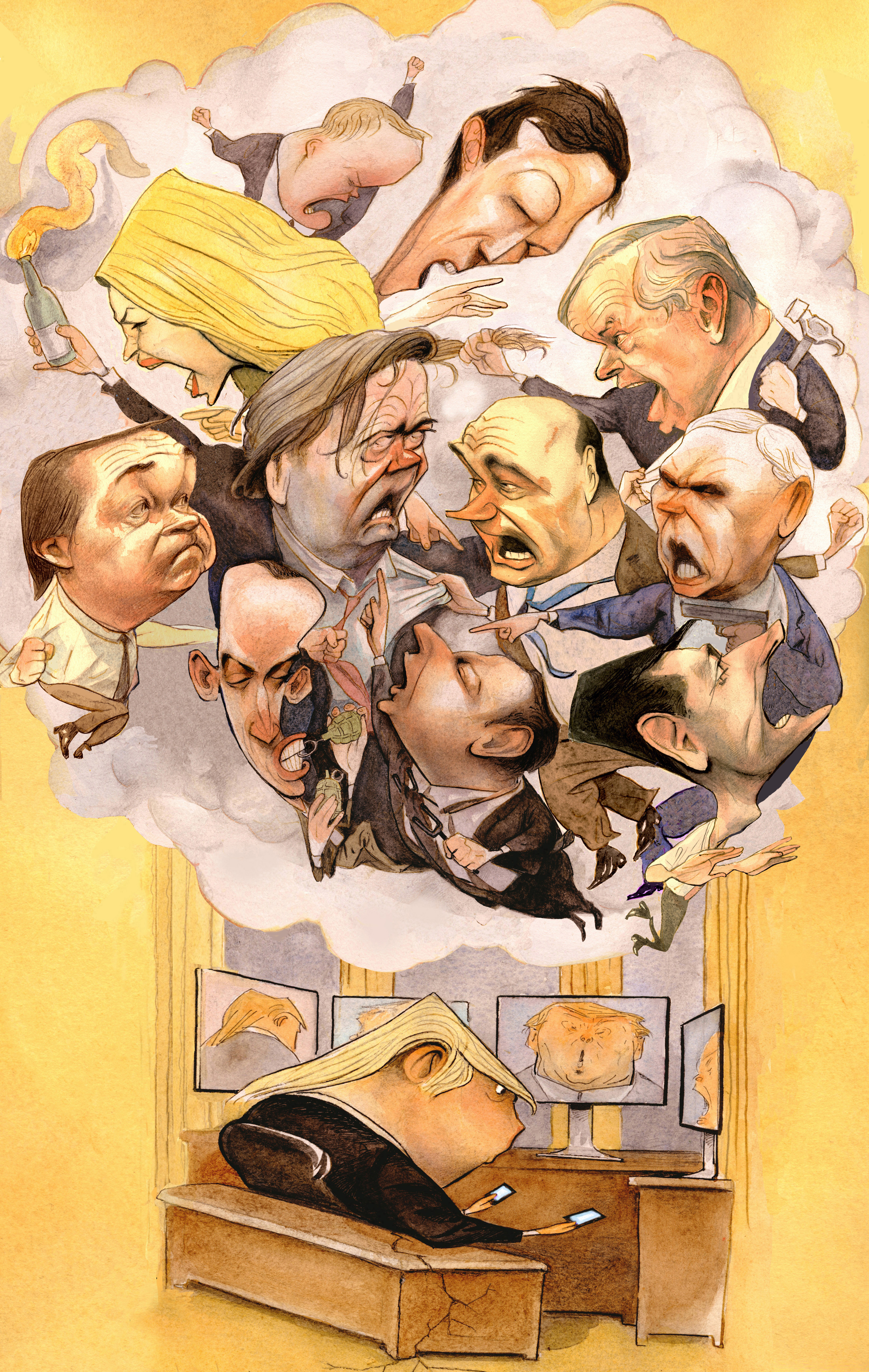 For the LA Times: The White House Civil Wars.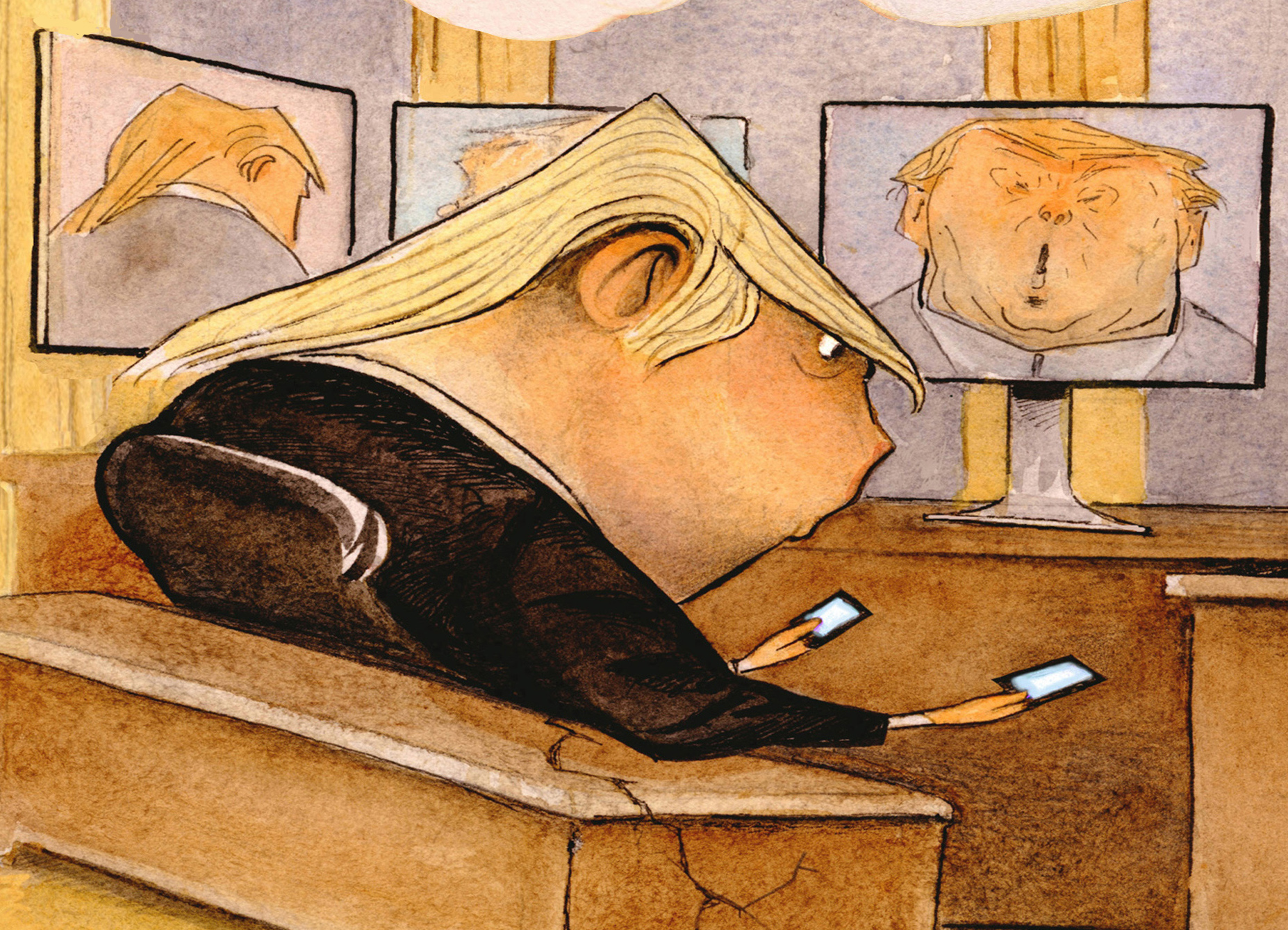 DJT.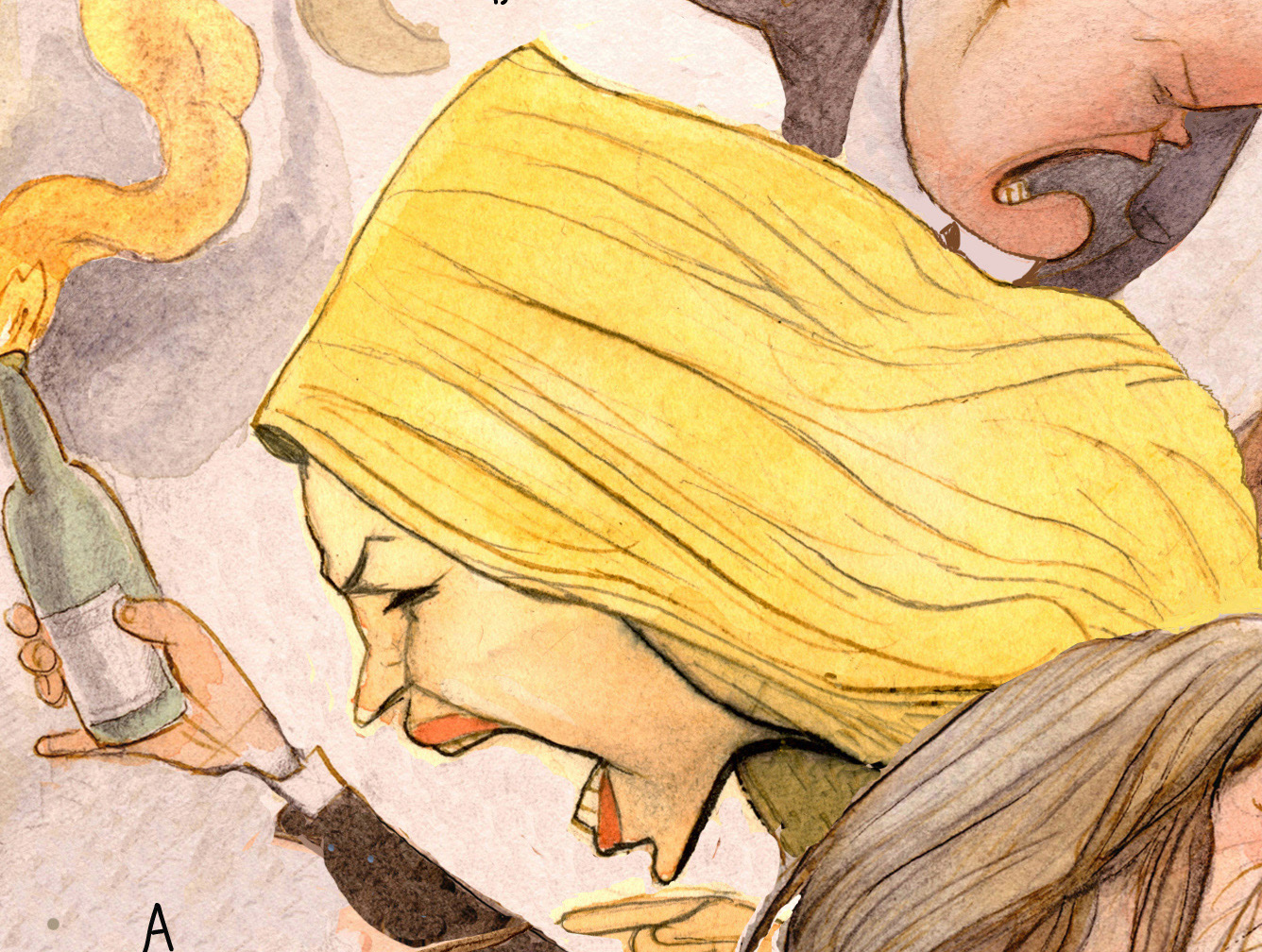 Ivanka.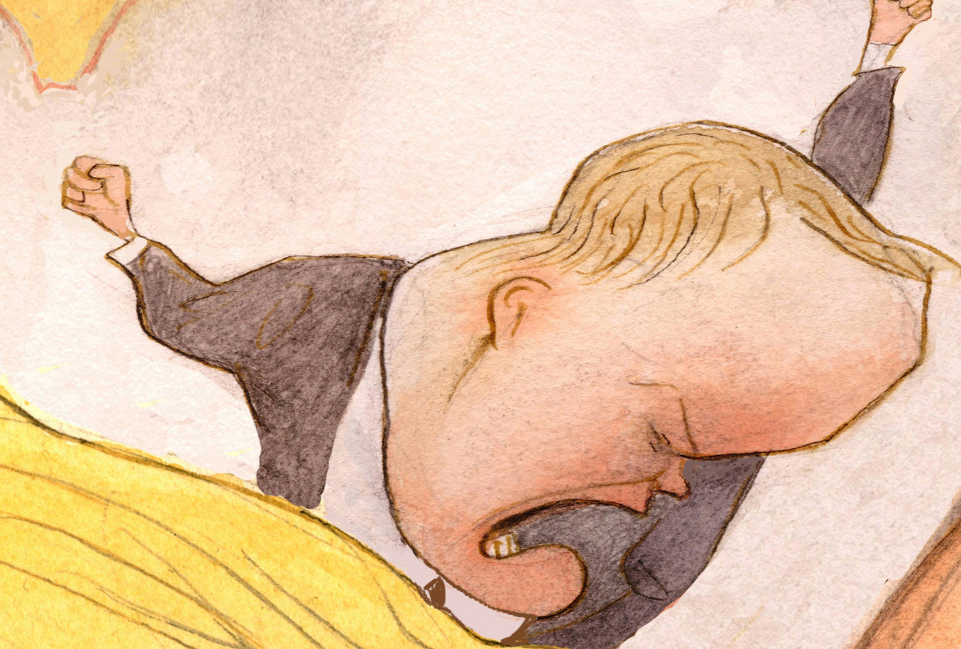 Spicer.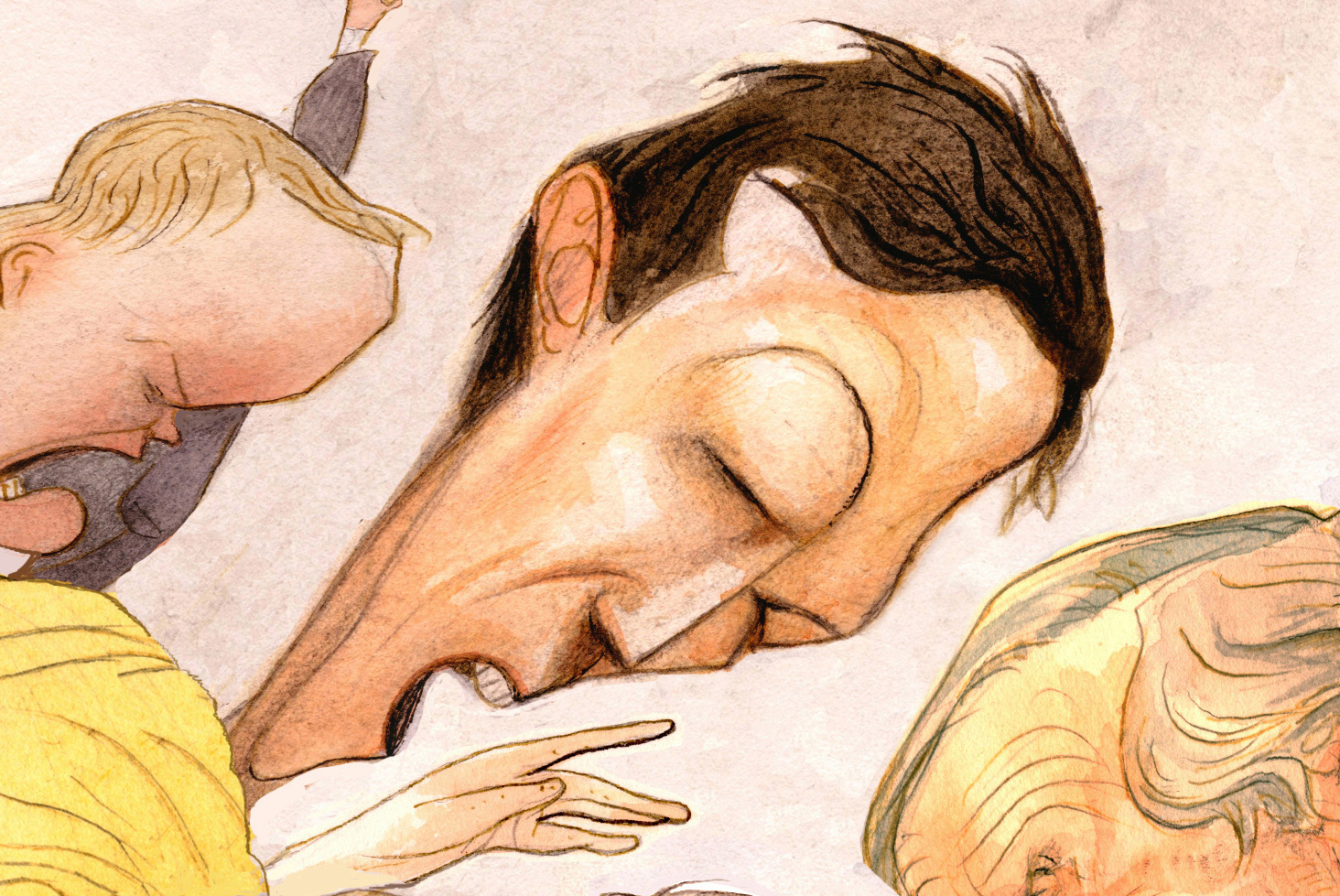 Kush.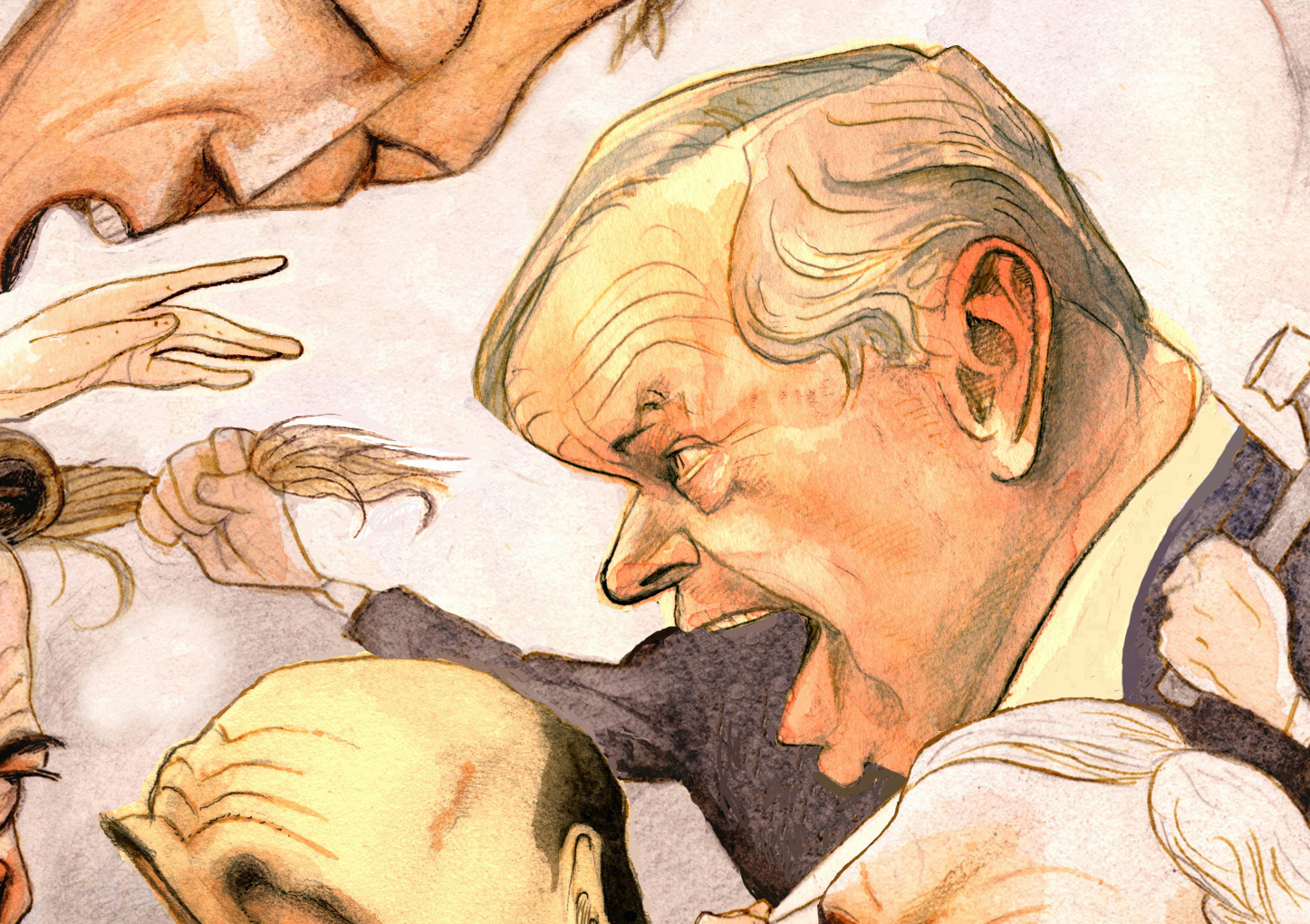 Mark Meadows (Freedom Caucus.)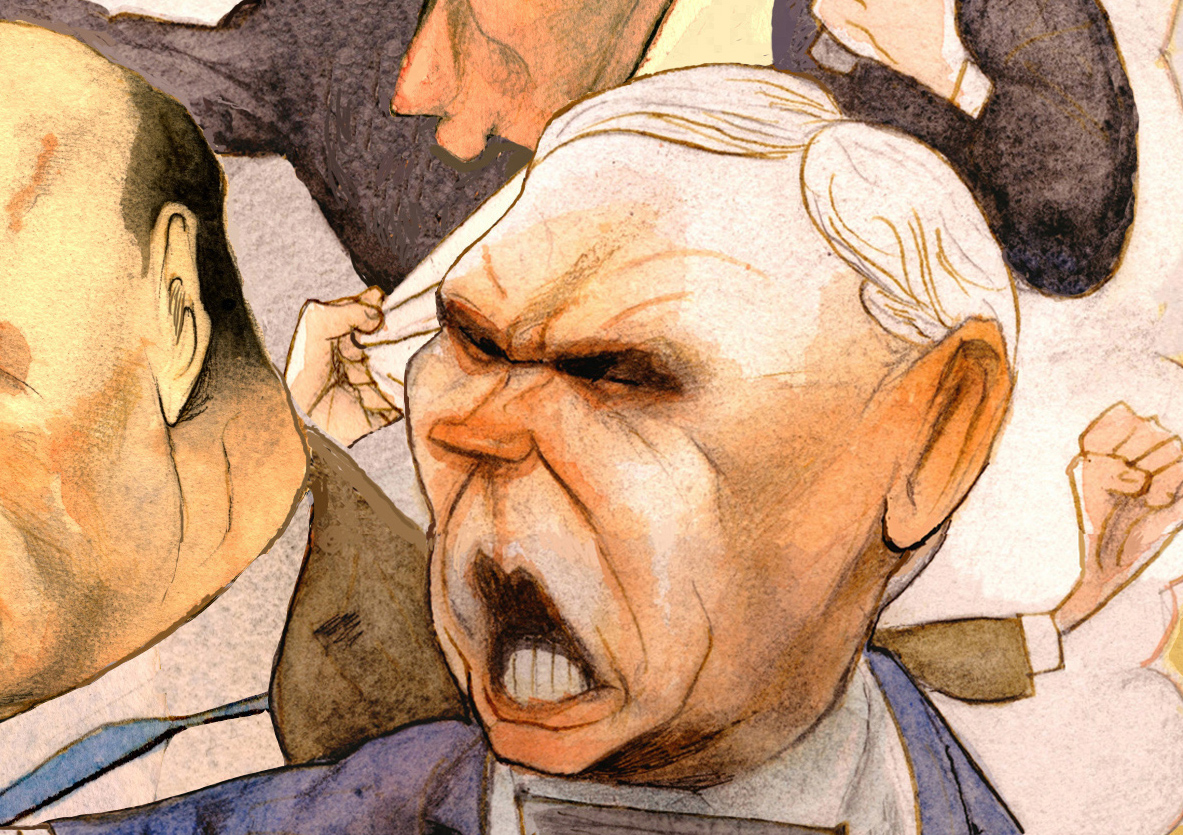 Pence.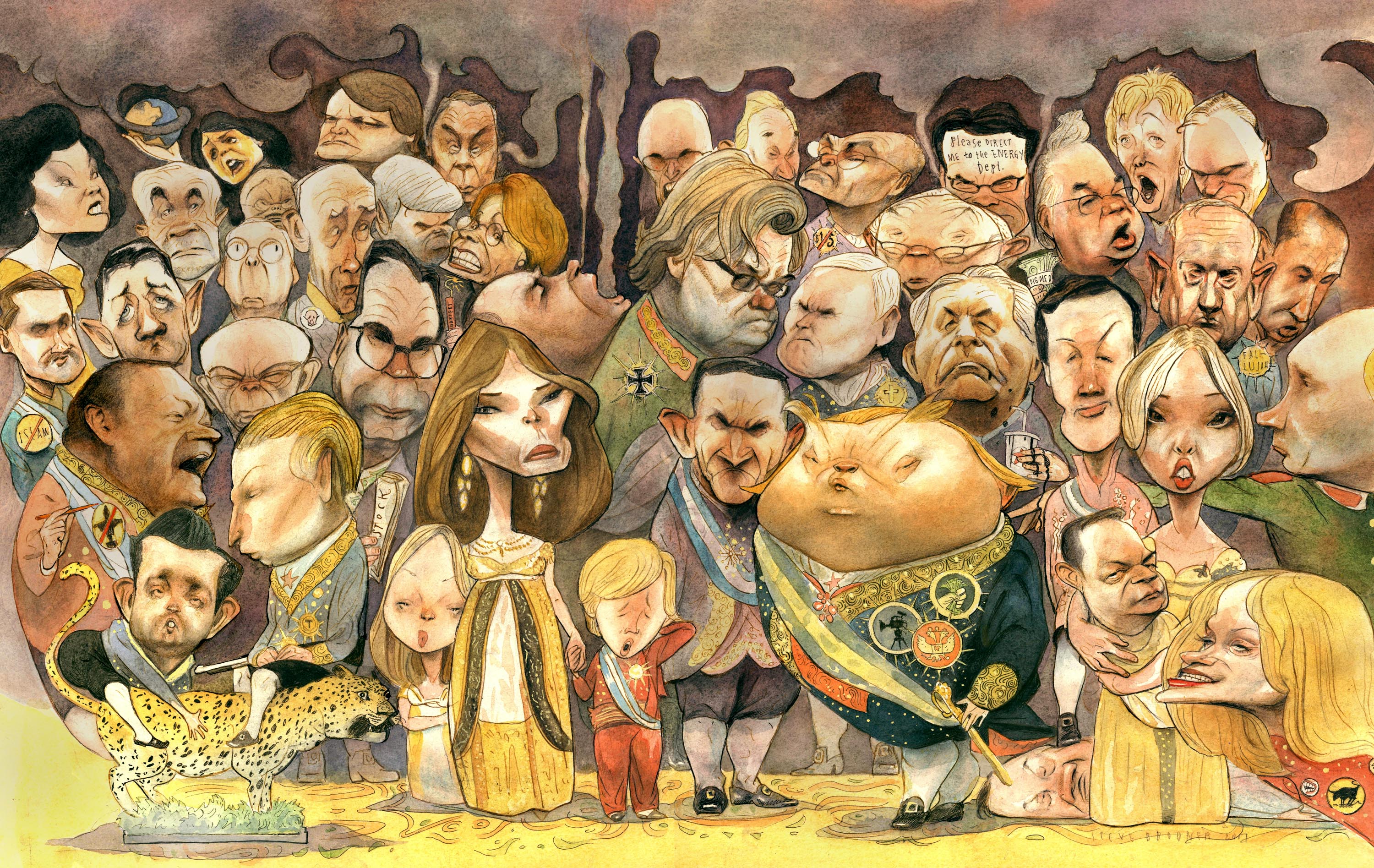 THE COURT OF KING DONALD I
(This image available as a Giclee print: https://society6.com/stevebrodner)
I was working on a big Hillary Inauguration piece for the LA Times in October and got pretty far with it. The idea was to have all the important characters in Washington and media at the ceremony all smeared with orange slime.
Then, well, you know.
I needed, as we all did, time to figure out what had just happened. Gradually the replacement became clearer: President Pumpkin was, as a tin pot autocrat, to himself and his followers, a kind of king. Then I thought of Goya's magnificent portrait of King Charles IV of Spain, where he mercilessly caricatured them (and they loved it, BTW.) Charles is a nothing, an empty vessel. You can make this case for Trump. He sells whatever the "mark" is buying. The family of Cankerous Cumquat is roughly the same size. The gilt-edged lifestyle, also a good fit. So I began.
Here's the final, details and process shots. It is darned good to be an illustrator when your deepest feelings can find a form. I marched around DC with a lot of you yesterday. Both things gave me the same feeling. That we are at the beginning of a movement of great power. Let us hope.
It took a couple of weeks to finish with the absolutely wonderful support of Susan Brenneman and Wesley Bausmith at the Times.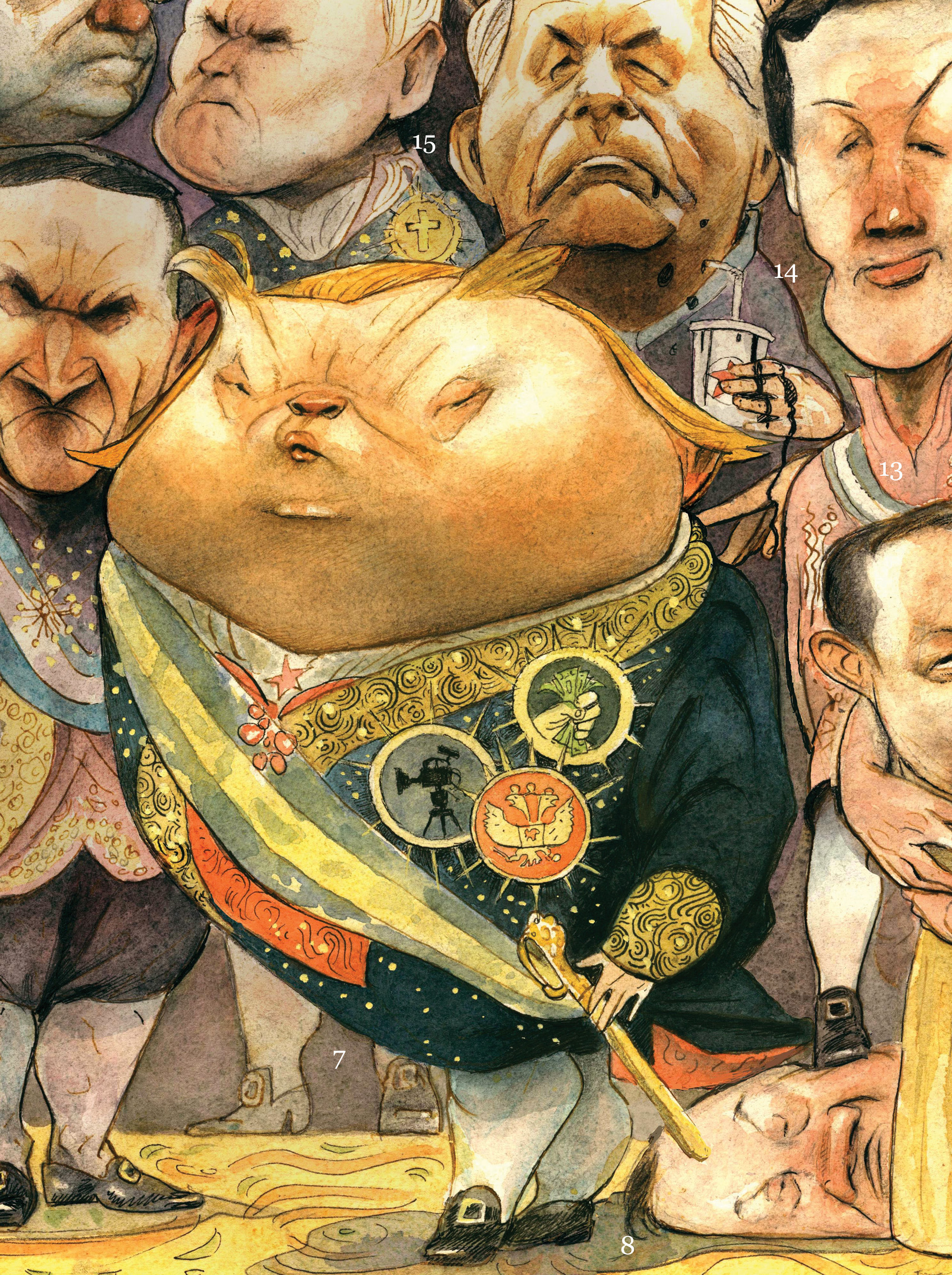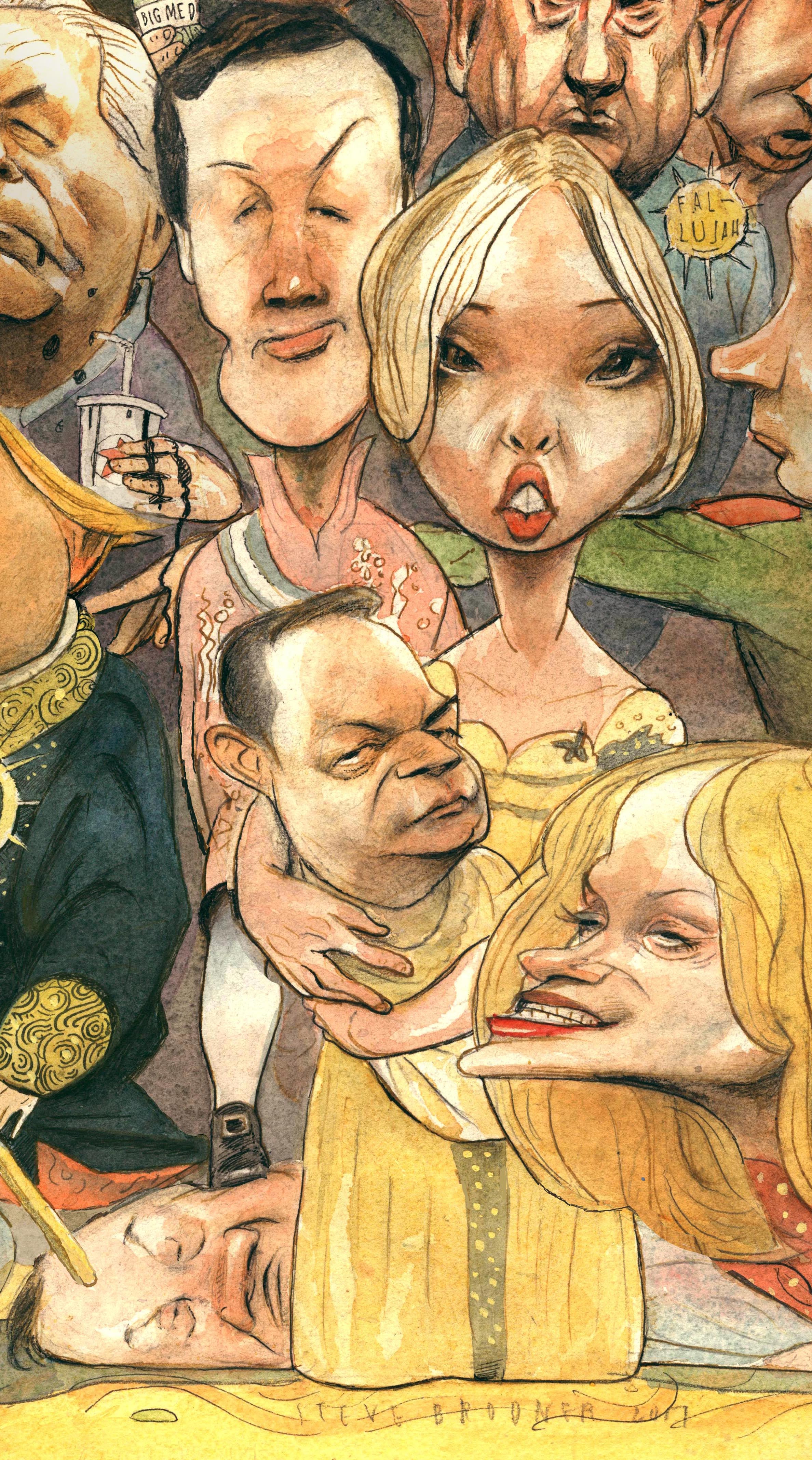 Kushners, Priebus, Christie, Conway.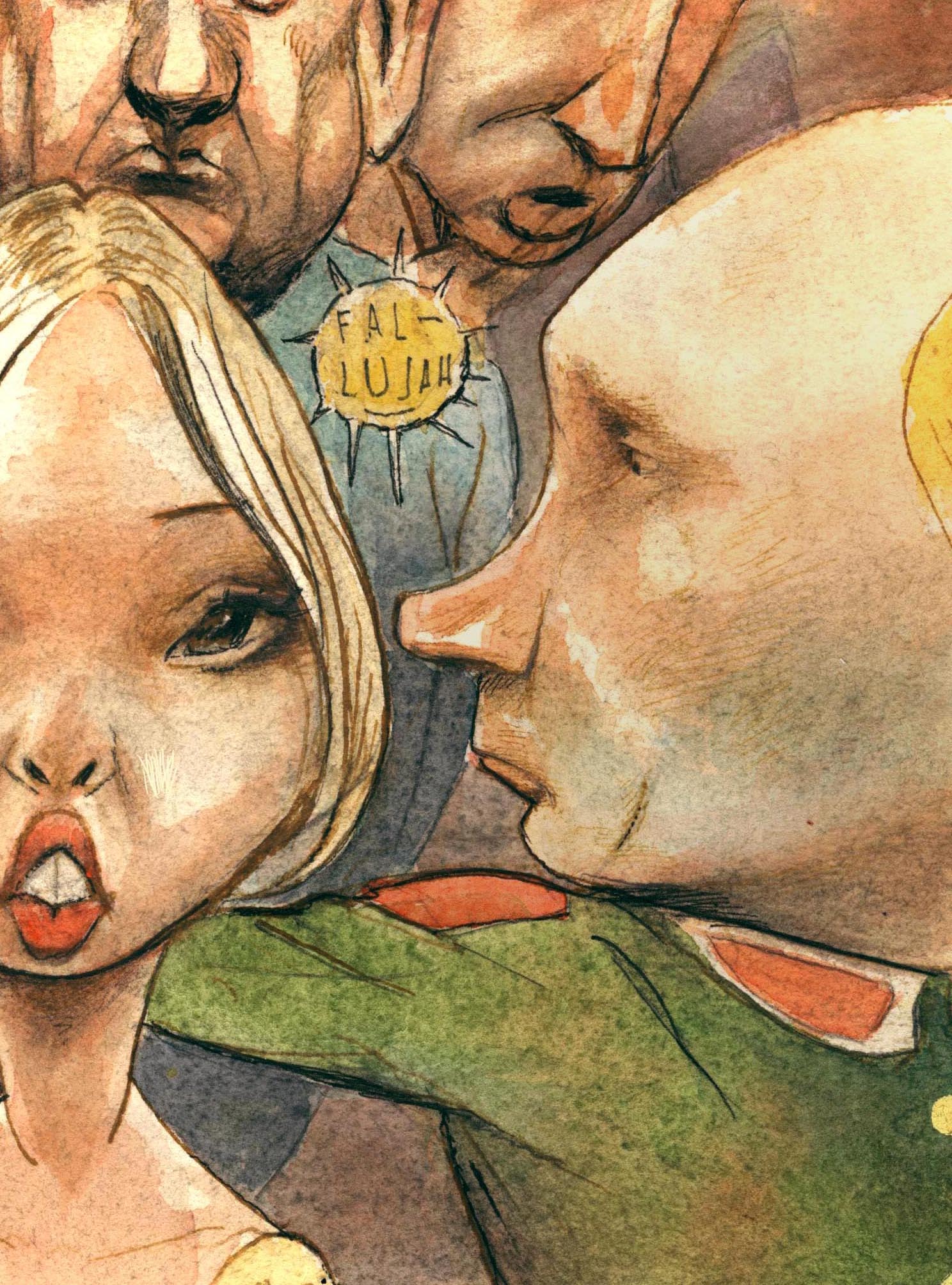 Ivanka, Putin.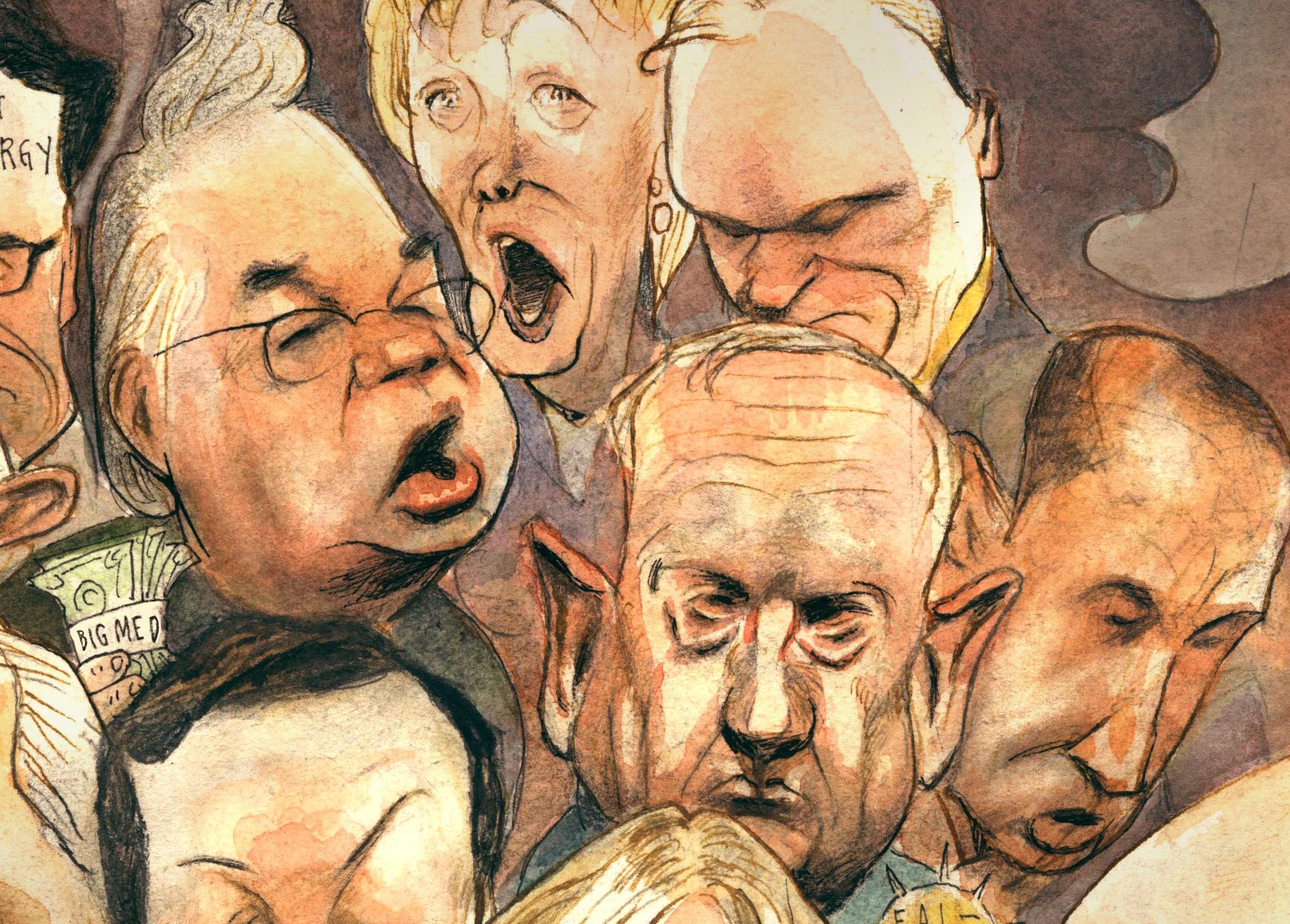 Price, Mattis & Co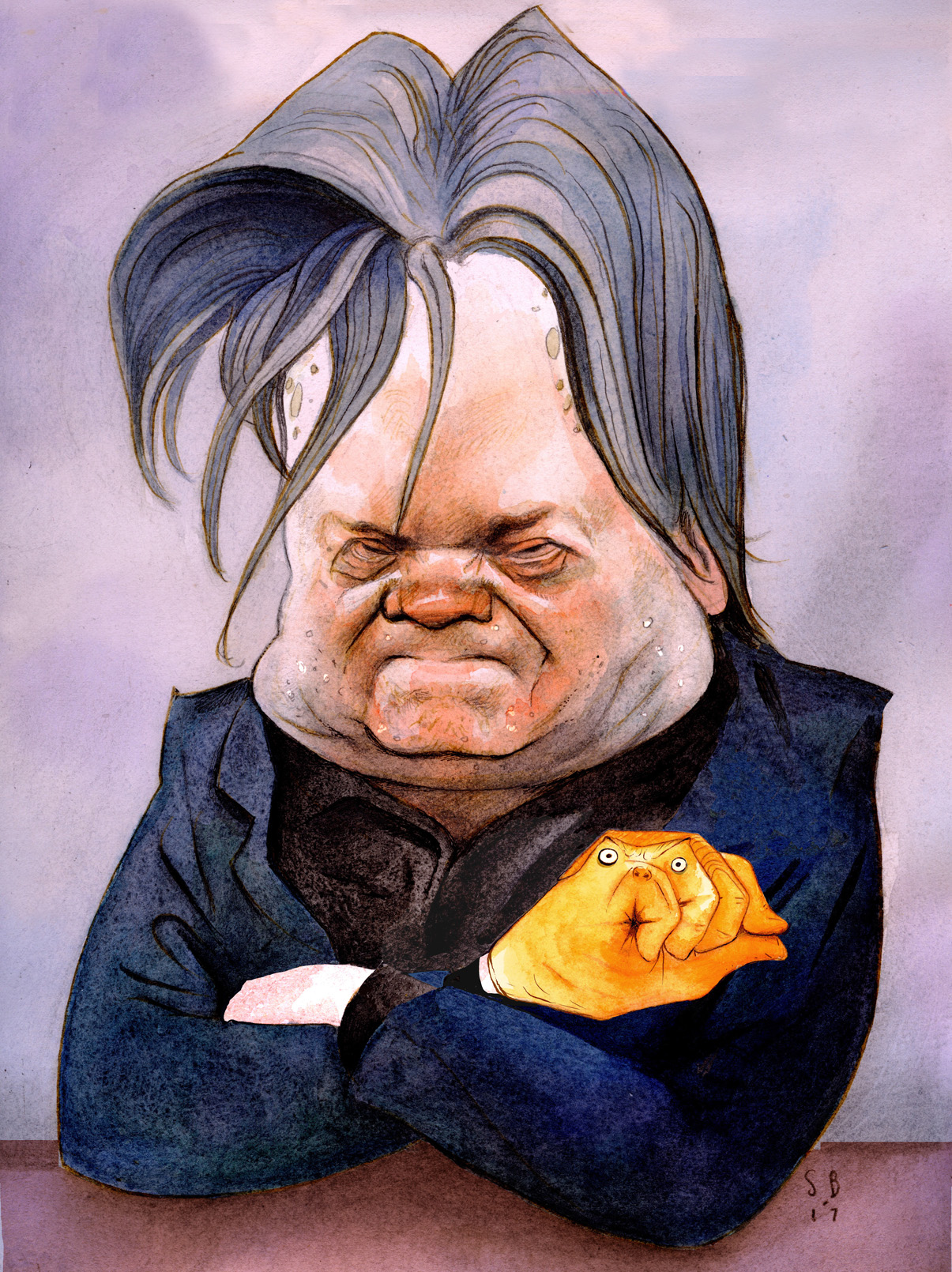 Stephen Bannon, The American Bystander.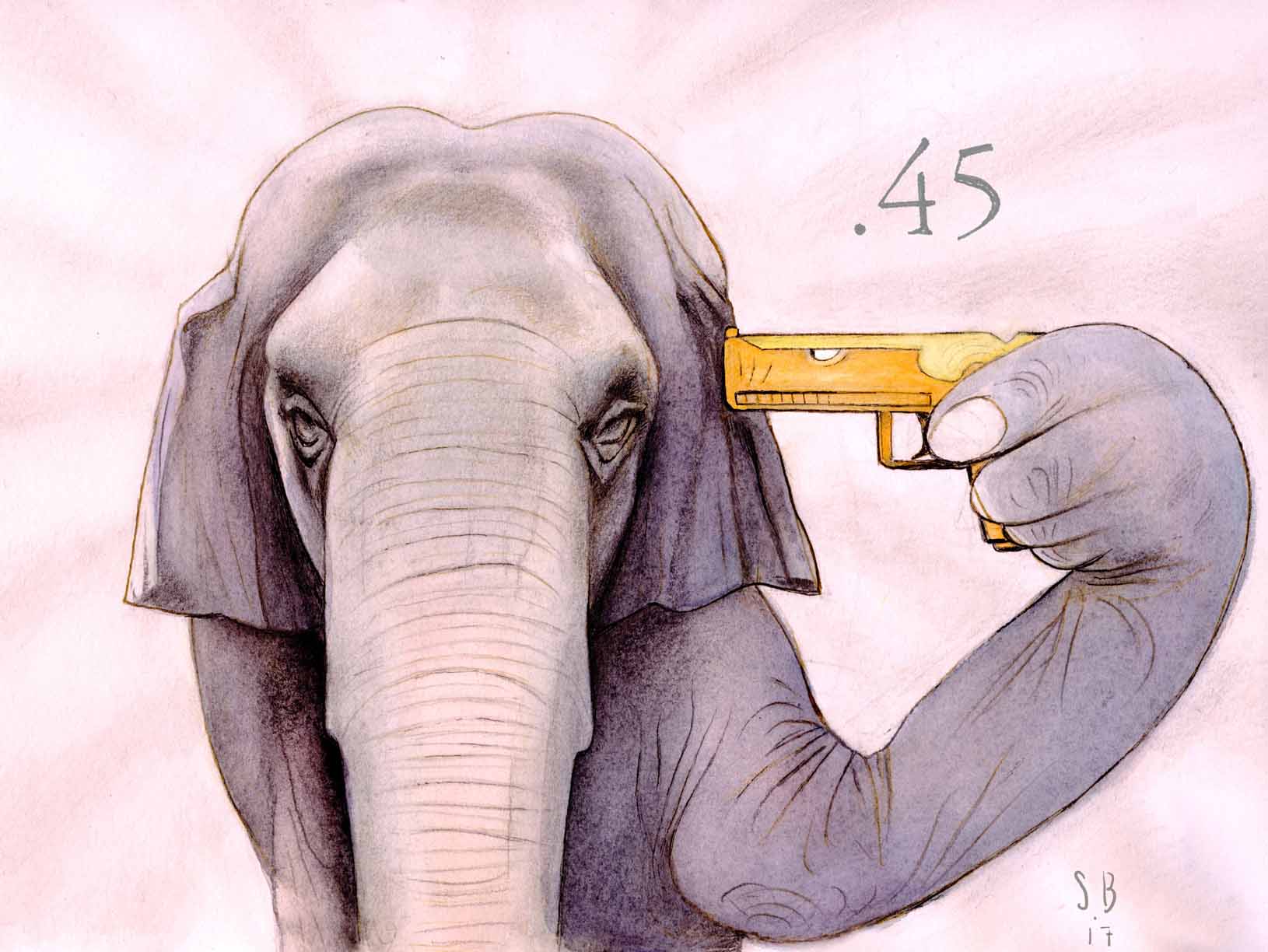 American Journal.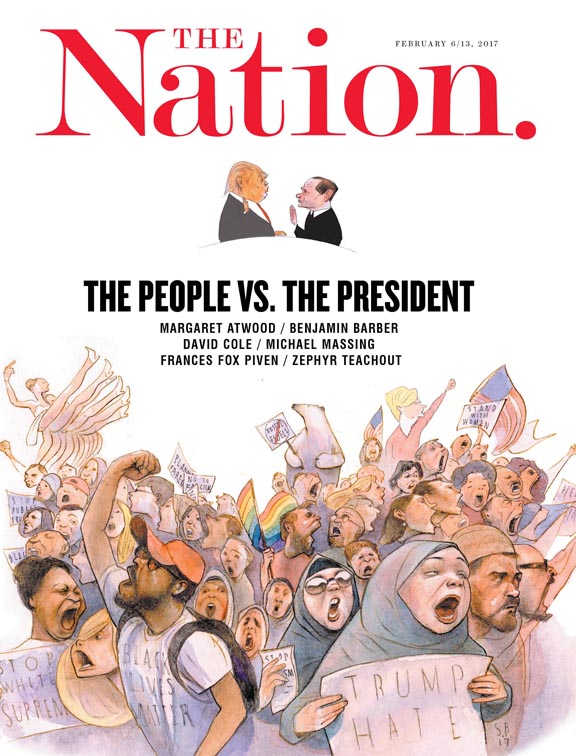 The Resistance.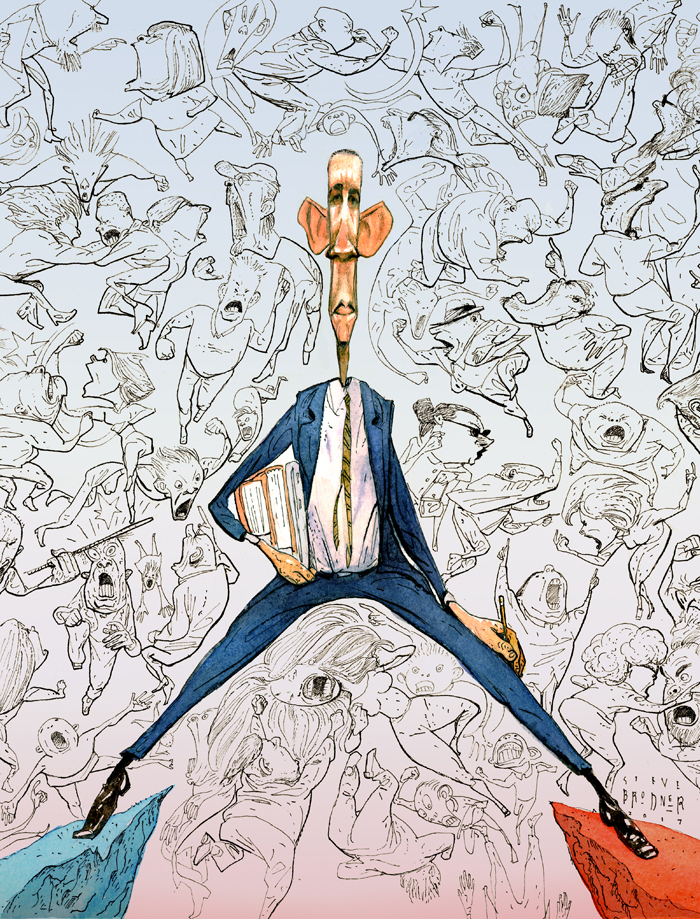 The Legacy of Obama.
The Nation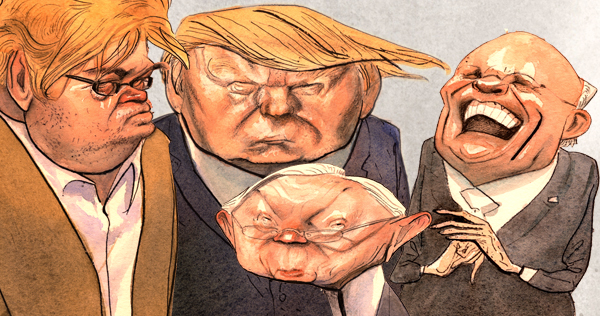 The Trump Gang
The Nation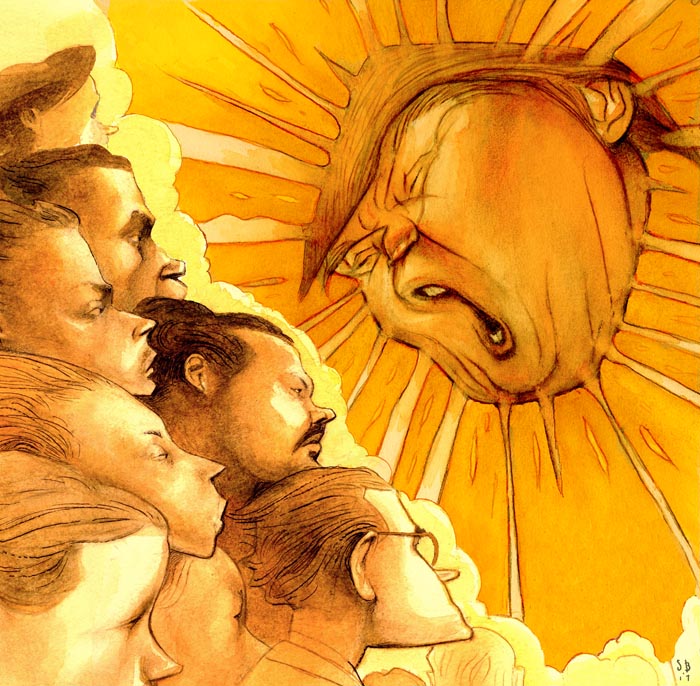 Resisting Trump
Harper's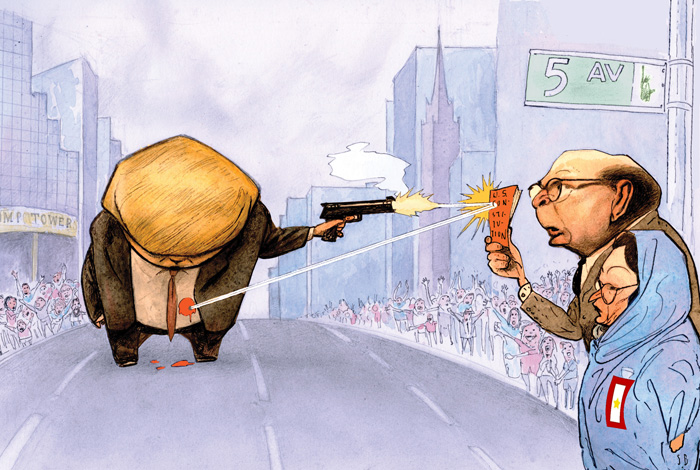 Trump and the Khans. The Nation.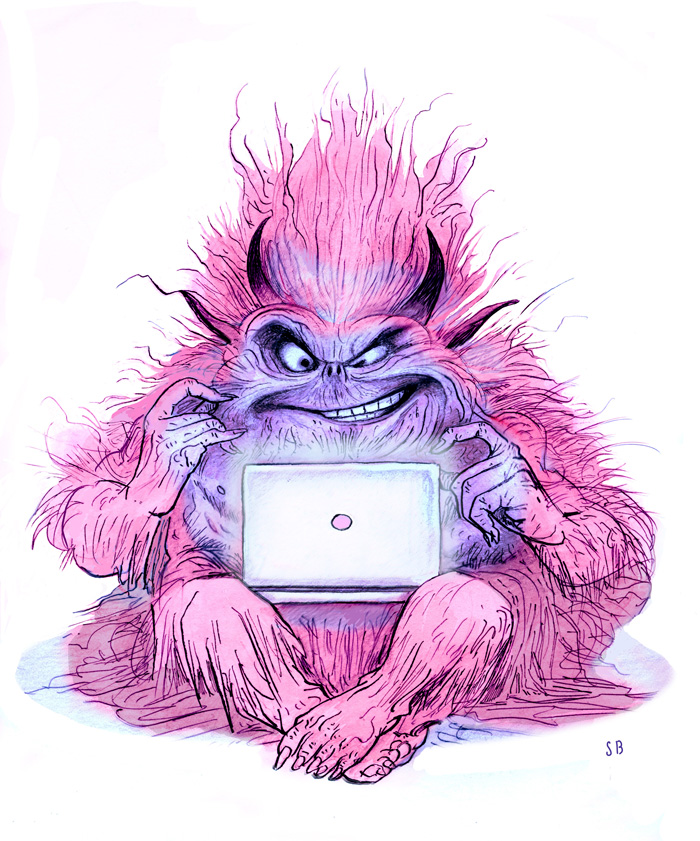 A Troll. For Time Magazine. Click here for 2016 published work: [Read More…]
Featured Bottom Right
This is a widgeted area which is called Featured Bottom Right. It is using the Genesis - Featured Posts widget to display what you see on the News child theme demo site. To get started, log into your WordPress dashboard, and then go to the Appearance > Widgets screen. There you can drag the Genesis - Featured Posts widget into the Featured Bototm Right widget area on the right hand side. To get the image to display, simply upload an image through the media uploader on the edit page screen and publish your page. The Featured Posts widget will know to display the post image as long as you select that option in the widget interface.